Flashback Arrestor Testing

Regulator Testing

Includes:

Flashback Arrestor Testing

Regulator Testing

Hose Testing

Blowpipe Testing

Cutting Attachment Testing

Equipment Repairs

Leak Testing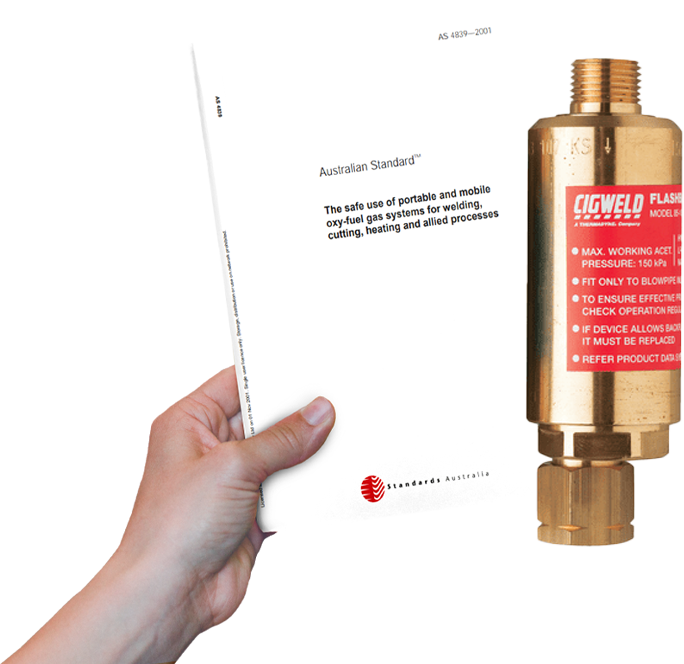 Flashback Arrestor Testing
Safely Devices For Use With Fuel Gases and Oxygen or Compressed Air

Australian Standard 4839 Section 7.3 Safety Devices
This is
How it Works
& Why We Test Your Flashback Arrestors
How a Flashback Arrestor Works?
Flashback Arrestor Testing Procedure, How we Test Your Flashback Arrestors
Flashback Arrestor
Testing
Why we Test Your Flashback Arrestor
WHAT IS A FLASHBACK & WHAT IS A FLASHBACK ARRESTOR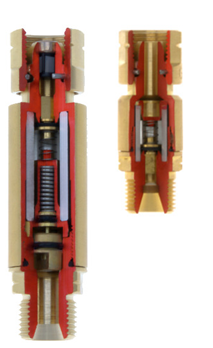 • A flashback happens when a flame burns back into the torch blowpipe and travel back along one of the gas hoses, & into your gas cylinders.
• A flashback can burn inside of your hose and cause serious damage, and we have witnessed serious flashbacks that cause equipment to melt, explosion, personnel burns
• A flashback arrestor is a safety device that stops the flame from re-entering your handpiece, hoses and gas cylinders.
• Also inside a flashback arrestor is a gas non-return valve.
FLASHBACK ARRESTOR TESTING
All flashback arrestor testing is completed on an IBEDA flashback arrestor testing machine to the requirements of AS 4603

In accordance with the relevant flashback arrestor standard, We test the following
* Through Flow,
*Reverse Flow and
*Leak Tightness
*labelling of the flashback arrestor for compliance.
FLASHBACK ARRESTOR TESTING ROUTINE
AS 4603: 3.3 – Periodic Testing
Testing on flashback arrestors in service shall be carried out at a minimum interval of 12 months.

AS 4839: Table 1 – Guidance on Maintenance
Calls for periodic inspection and maintenance on all portable and mobile oxy-fuel gas systems every 6 & 12 months.
MAINTAINING FLASHBACK ARRESTORS, TESTED BY A TECHNICALLY COMPONENT THIRD PARTY
Oxy/Fuel Gas testing requirements for Australia require flashback arrestors to be tested after the manufacturing process. On an ongoing basis they should be tested by a "third party technically component person'. Minimum annually In the event of a flashback, the flashback arrestor should be tested to see if any parts are faulty and needs replacing
WHERE DO I FIT FLASHBACK ARRESTORS
AUSTRALIAN STANDARD 4839 – THE SAFE USE OF PORTABLE AND MOBILE OXY-FUEL GAS SYSTEMS FOR WELDING, CUTTING, HEATING AND ALLIED PROCESSSECTION 7.3.3

Optimum protection is provided when at the blowpipe end a flame arrestor and a non-return valve for each gas line is fitted, and at the regulator end a flame arrestor, a non-return valve and a temperature activated cut-off valve for each line is fitted. Pressure activated cut-off valves at the regulator end are optional. The options in Clauses 7.3.4 and 7.3.5 below provide lower levels of protection and should be used only when it is not otherwise possible to achieve the rated flows of the end heat output device through the lack of outlet pressure from the pressure regulator.
All Equipment is
Leaked Tested
AS 4839 Section 8 -- Leak Testing + Maintenace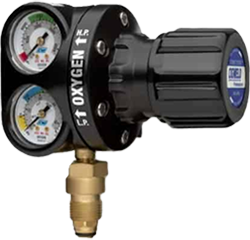 Oxygen, Acetylene, LPG Regulator Testing

AS 4839 Section 6.4 Regulators

AS 4267 Regulators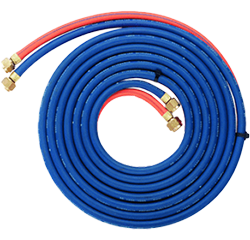 Oxygen, Acetylene, LPG Twin Hose Testing

AS 4839 Section 6.5 Regulators

AS 1335 Hoses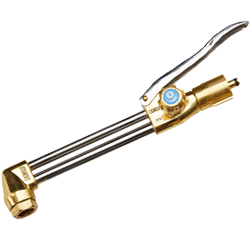 Blowpipe, Cutting Attachment + Parts Inspection + Testing

AS 4839 Section 6.6 + 6.7 + 6.8 Blowpipe + Mixer Nozzles
Gas Cylinder
Storage Facility Inspections

Australian Standard 4839 Section Gas Cylinder Storage + Handling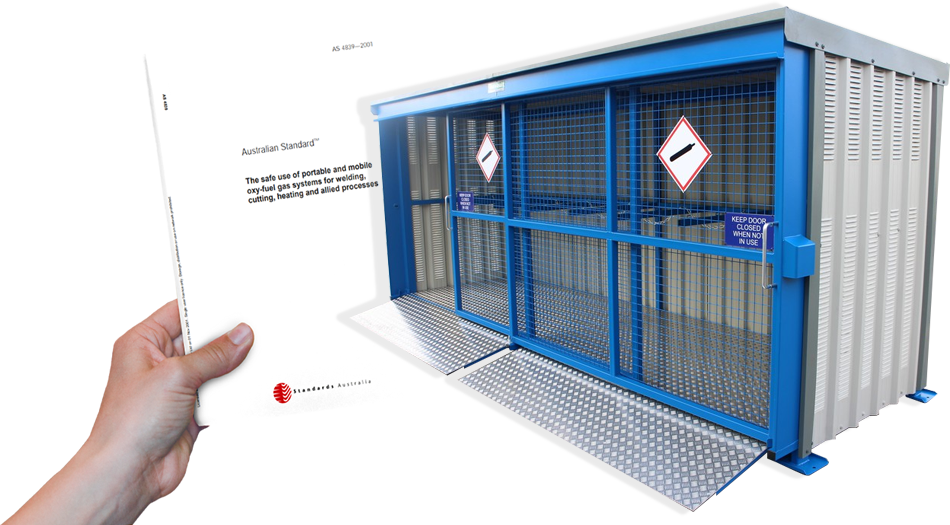 PPE Inspection

Australian Standard
4839 Section 6.11
- Personal Safety Wear
- Glasses
- Welding Jacket
- Head Protection

Australian Standard
1336 + 1337
- Breathing Apparatus

Australian Standard
1715 + 1716
Your Oxy
Gas Equipment Inspection Routine
"YOUR SITE YOUR STANDARD
CONTINUOUS IMPROVEMENT"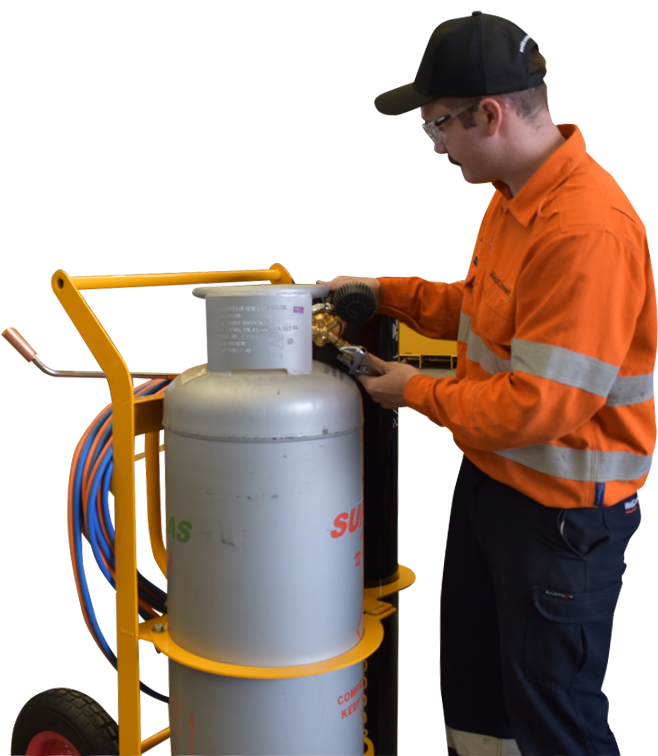 Oxy Fuel
Gas Equipment Inspection
Quality Management
WeldConnect is the only company in Australia
With a Quality Management System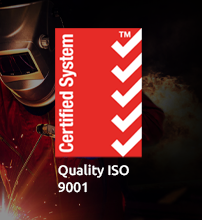 1. Select the best in Australia WeldConnect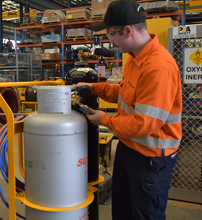 2. Oxy/Fuel Gas Inspection Procedure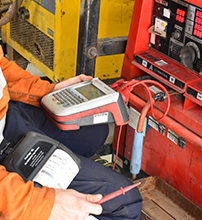 3. Staff Technical Component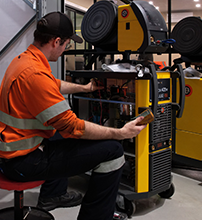 4. On-Site Test Your Equipment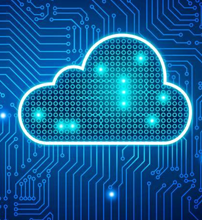 5. Reports History Stored in the Cloud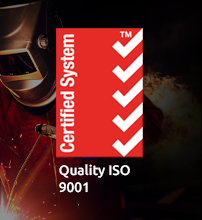 6. Select the best in Australia WeldConnect
Our
App
In 2013 WeldConnect Introduced the First Oxy/Fuel Gas Equipment Testing Procedure App! Mapped into all Relevant Australian Standards
Systematic Approach
Hazard - Risk - Control - Safe - Save

Oxy Fuel
Gas Equipment
Inspection Quality Management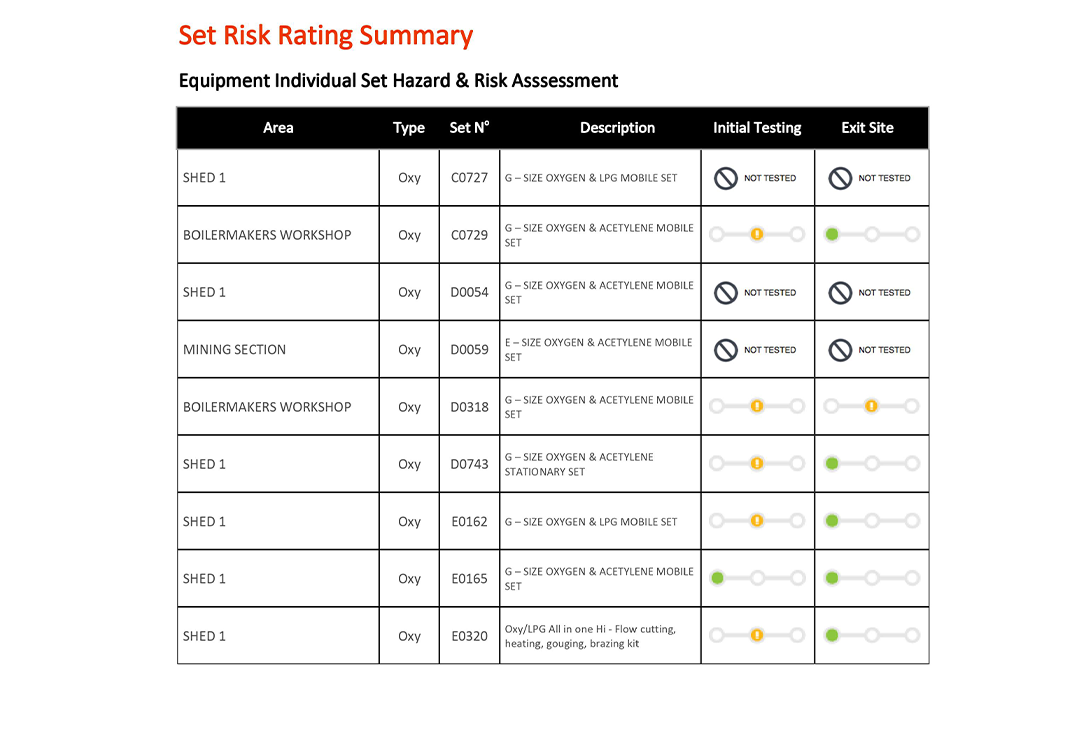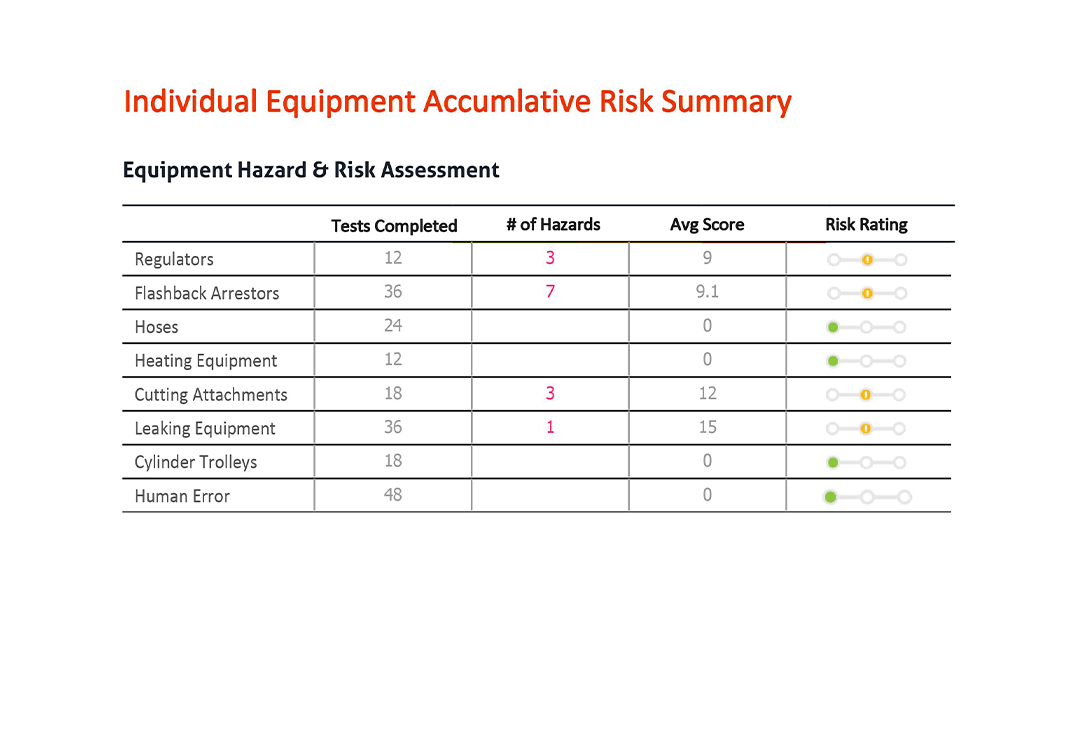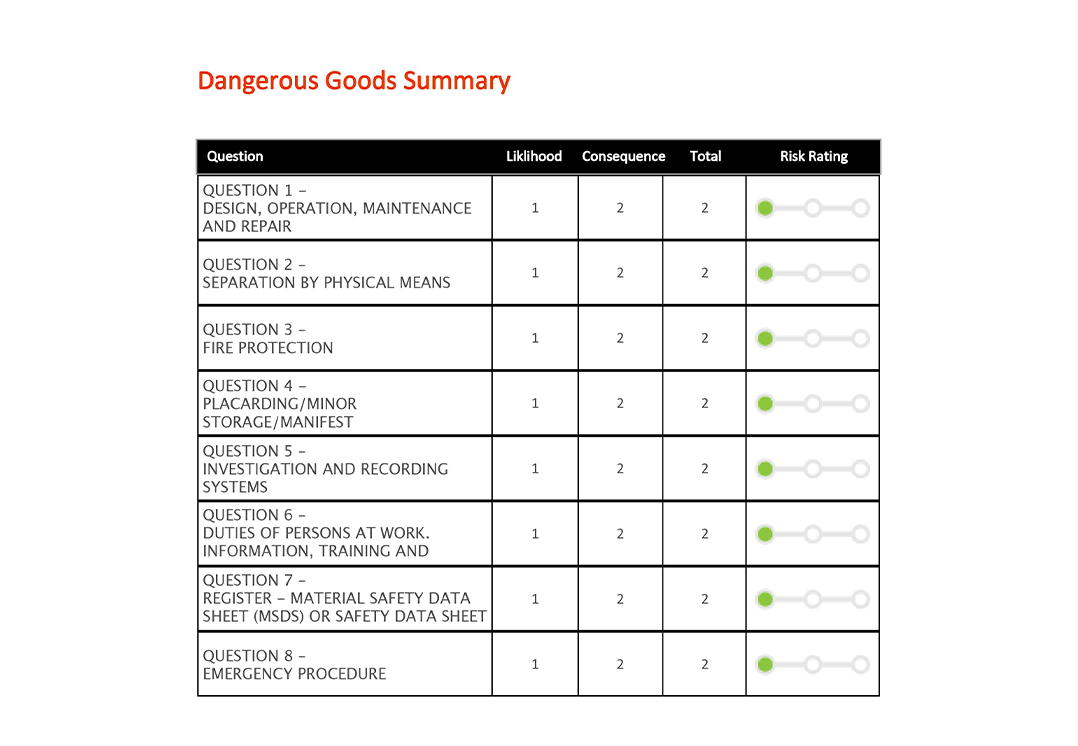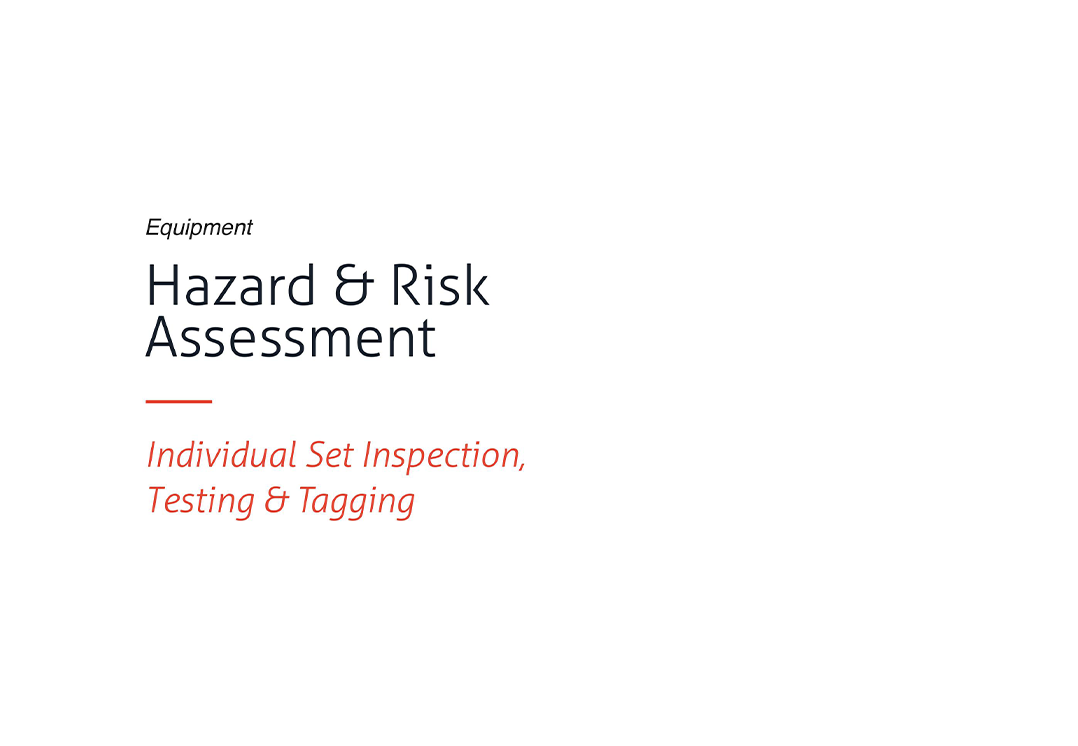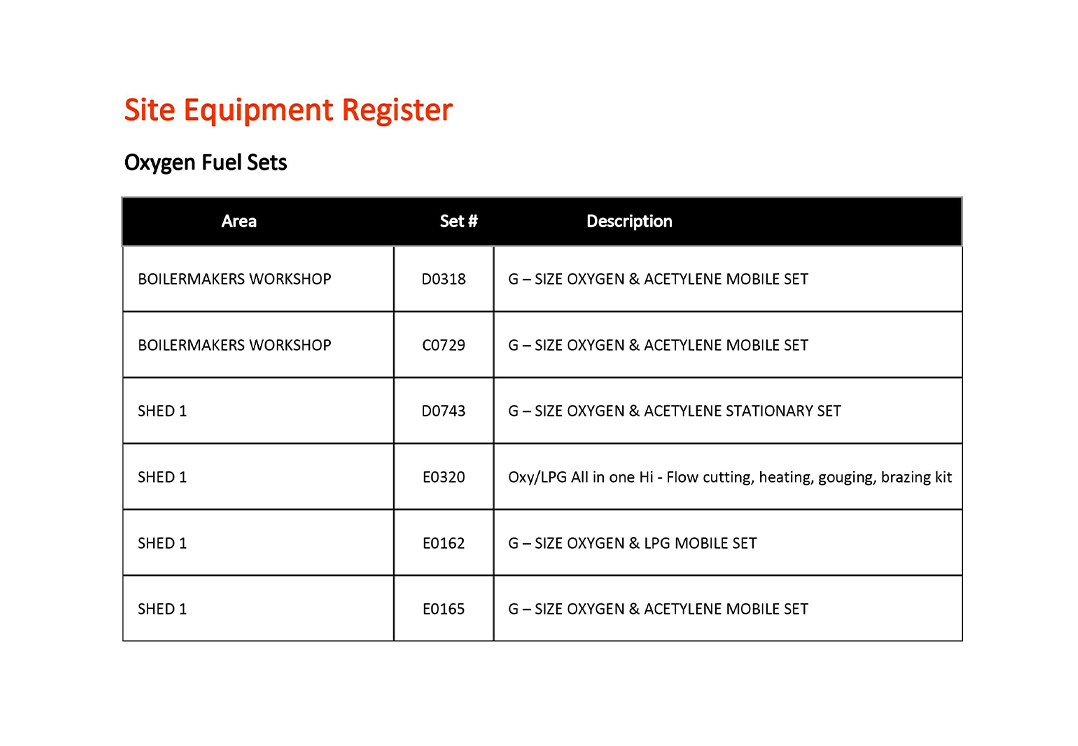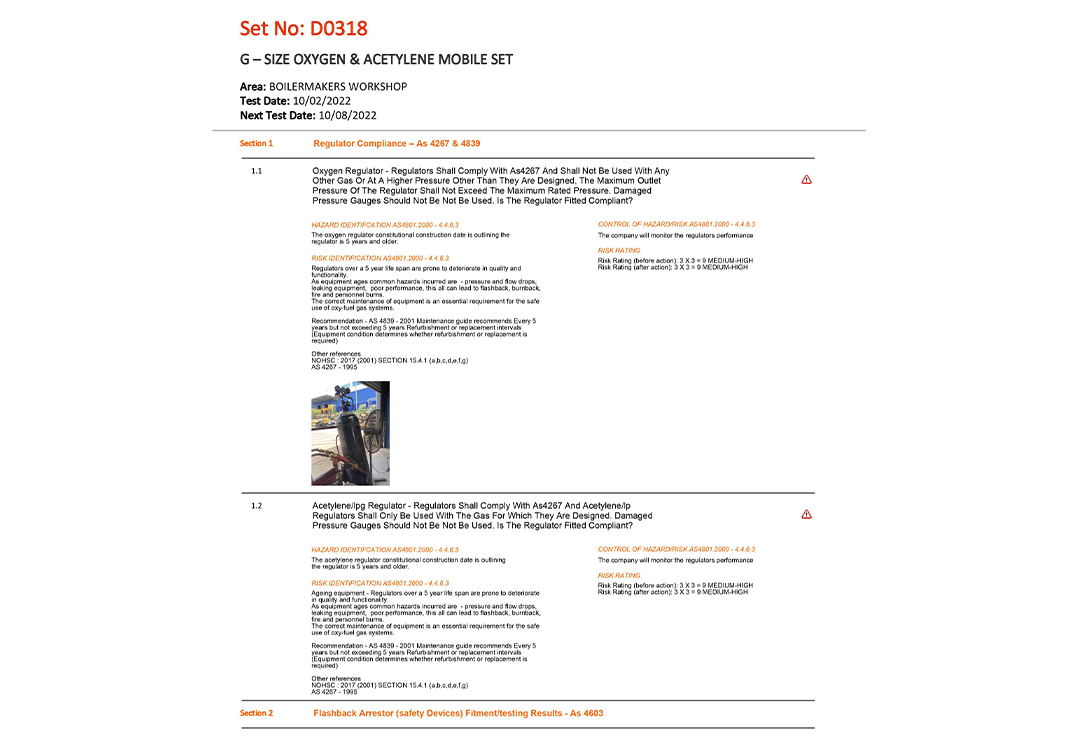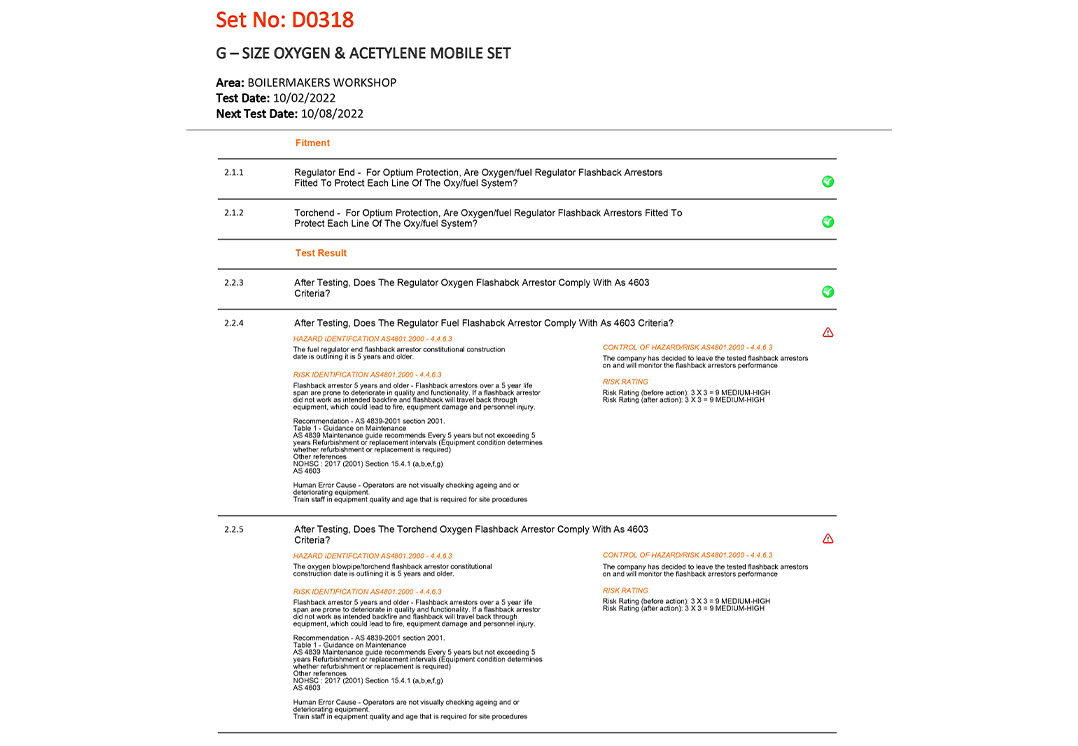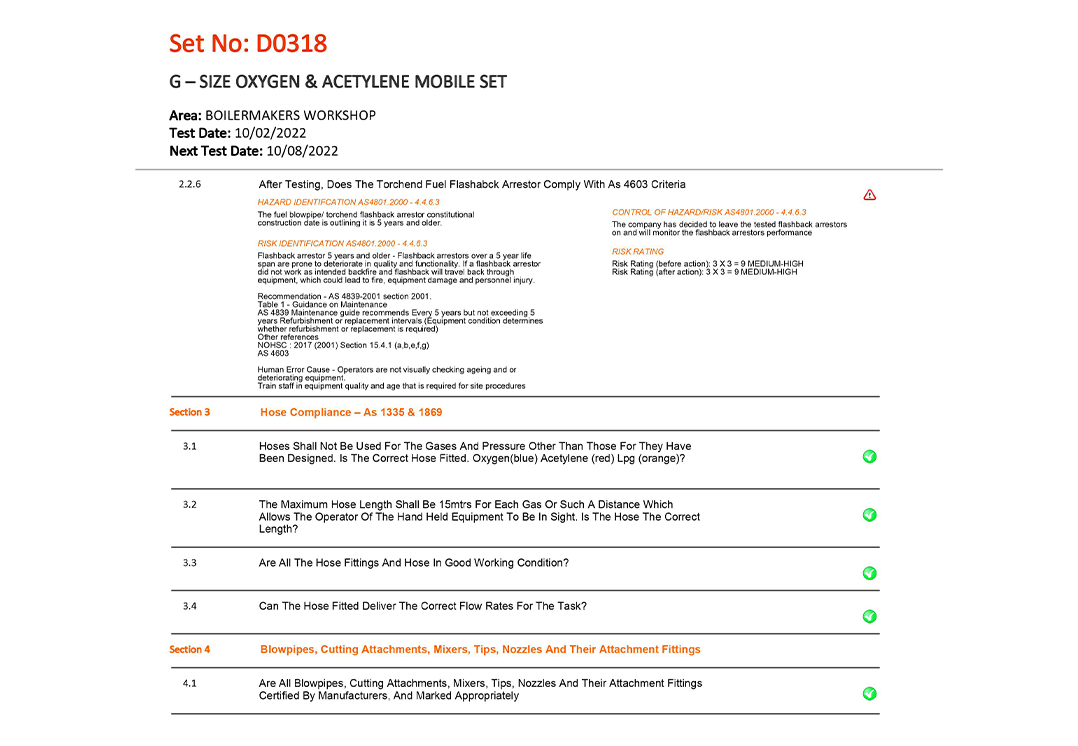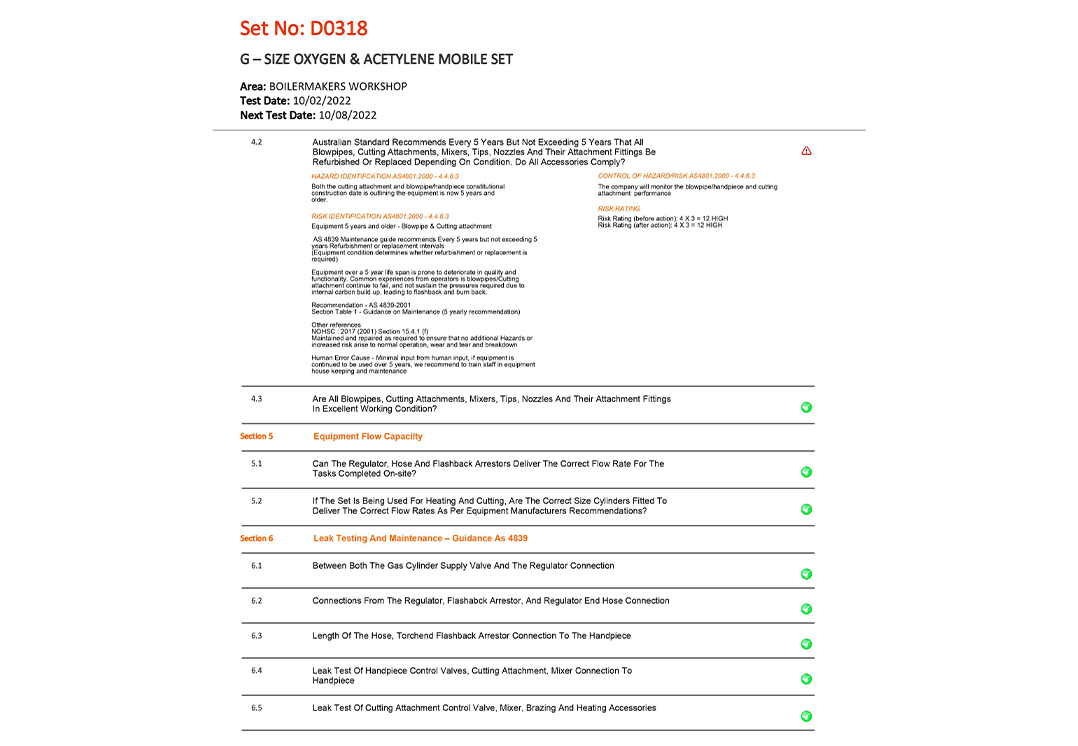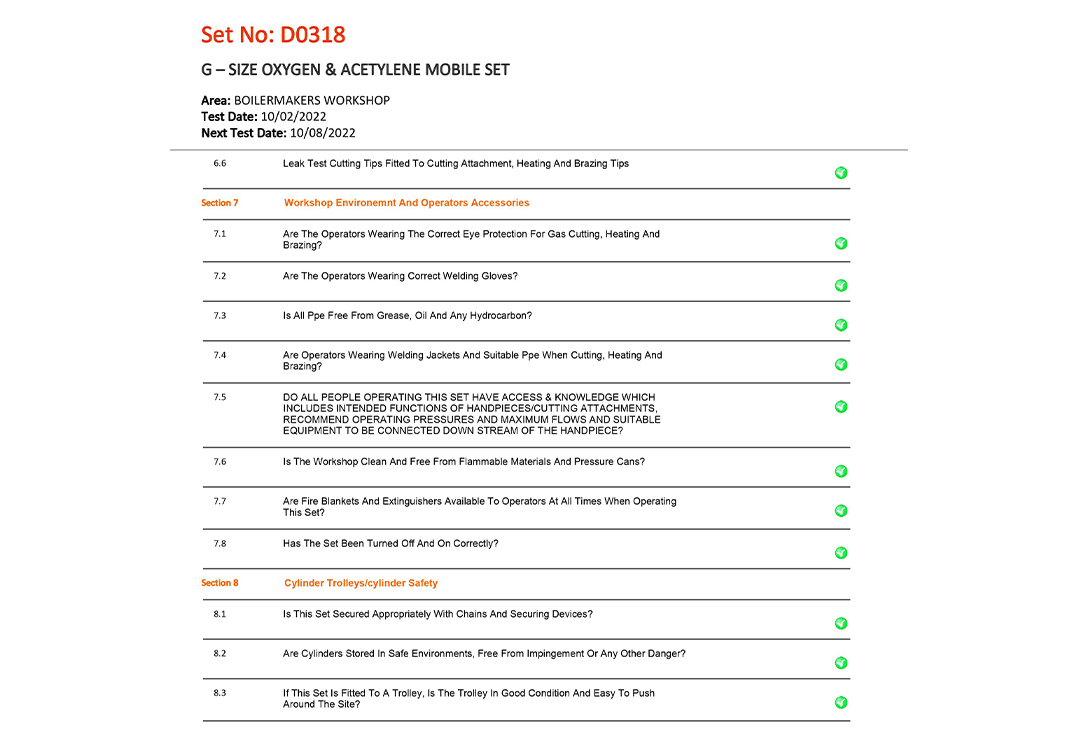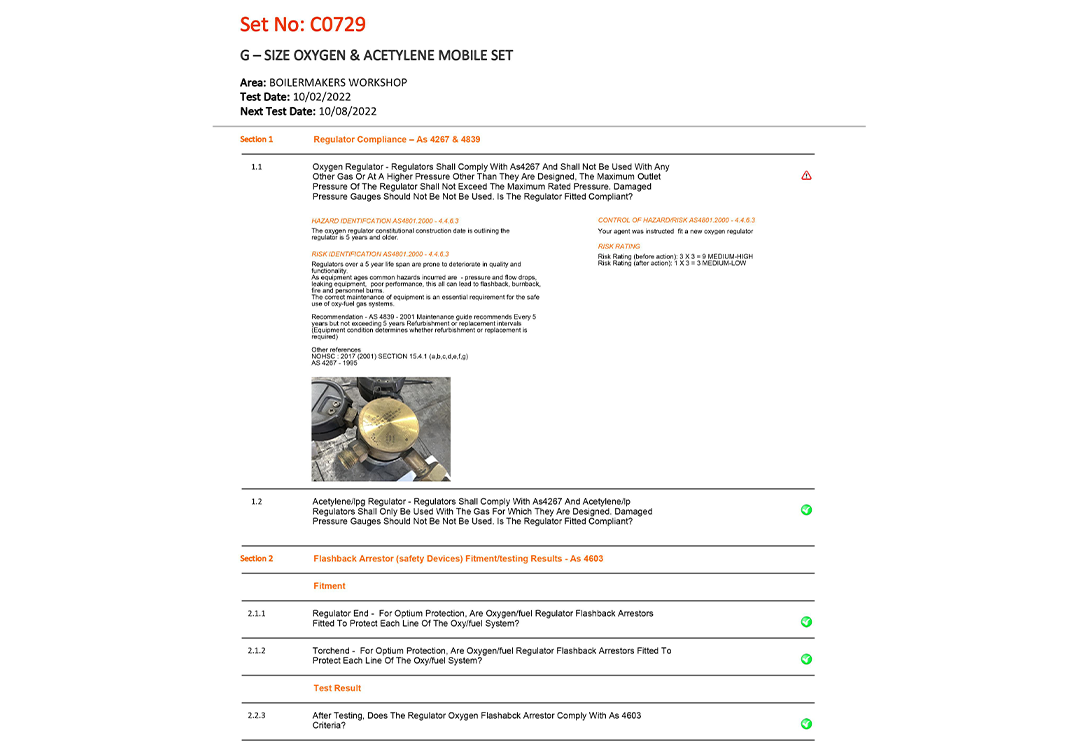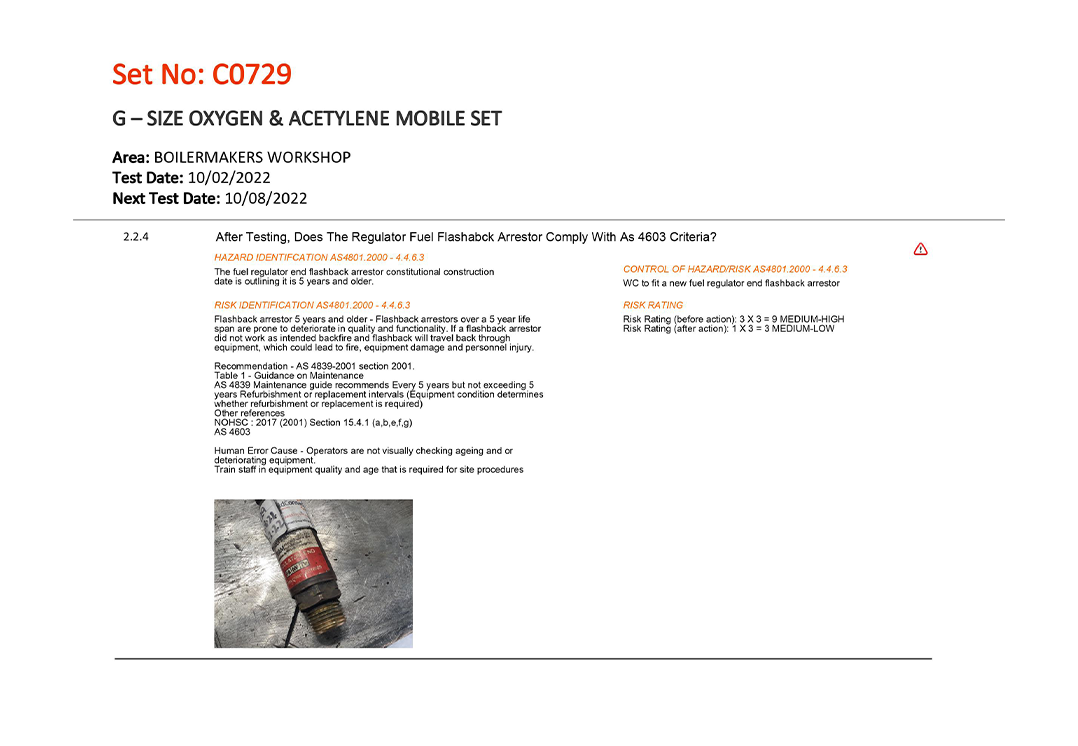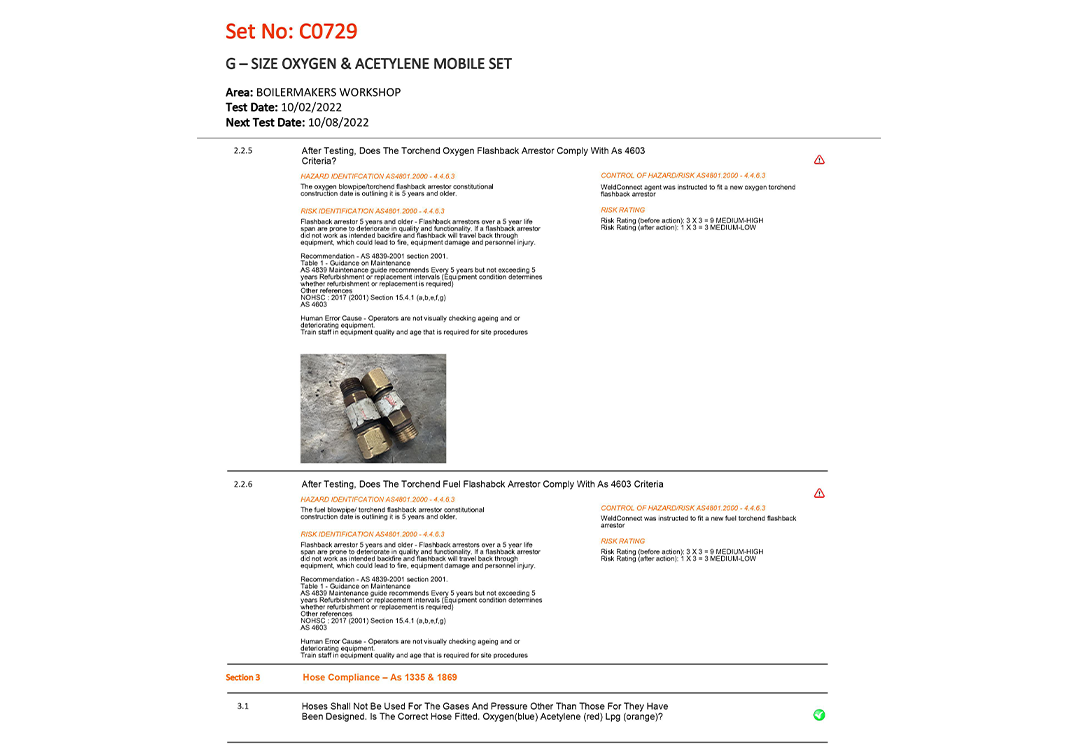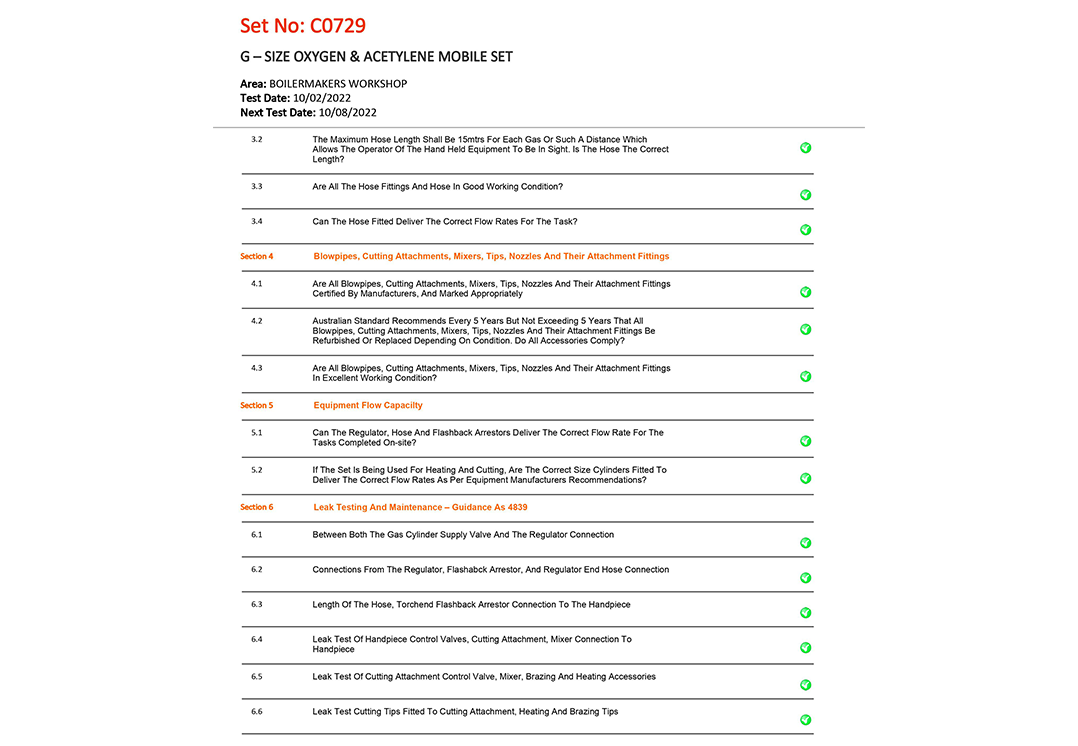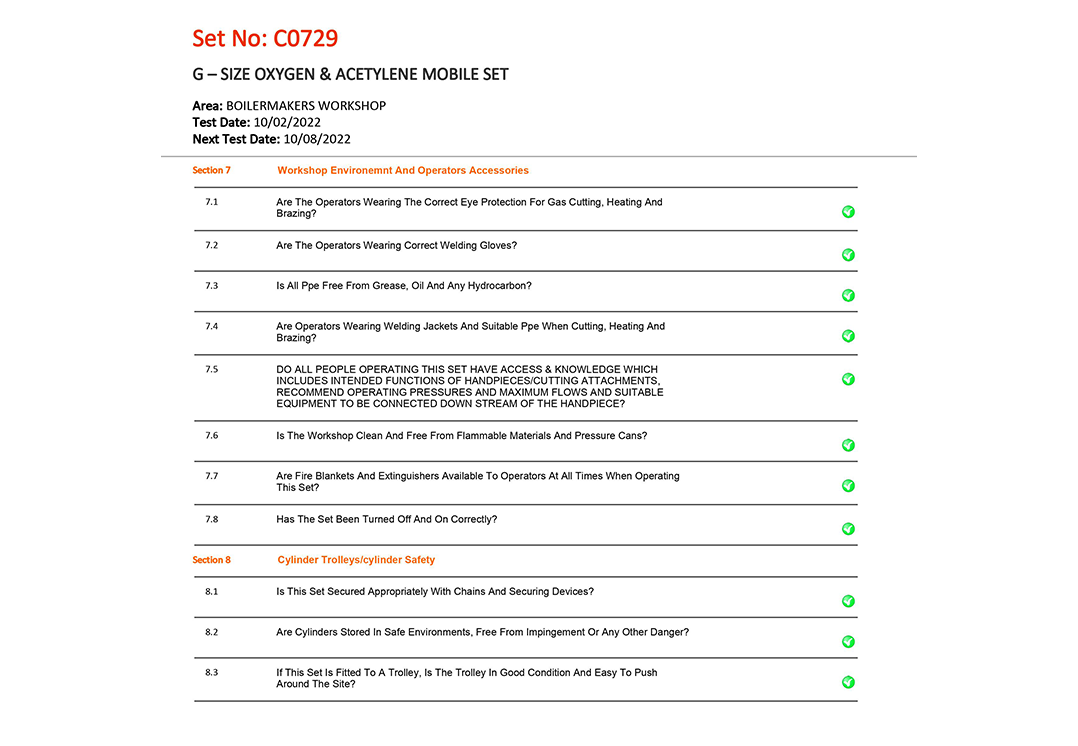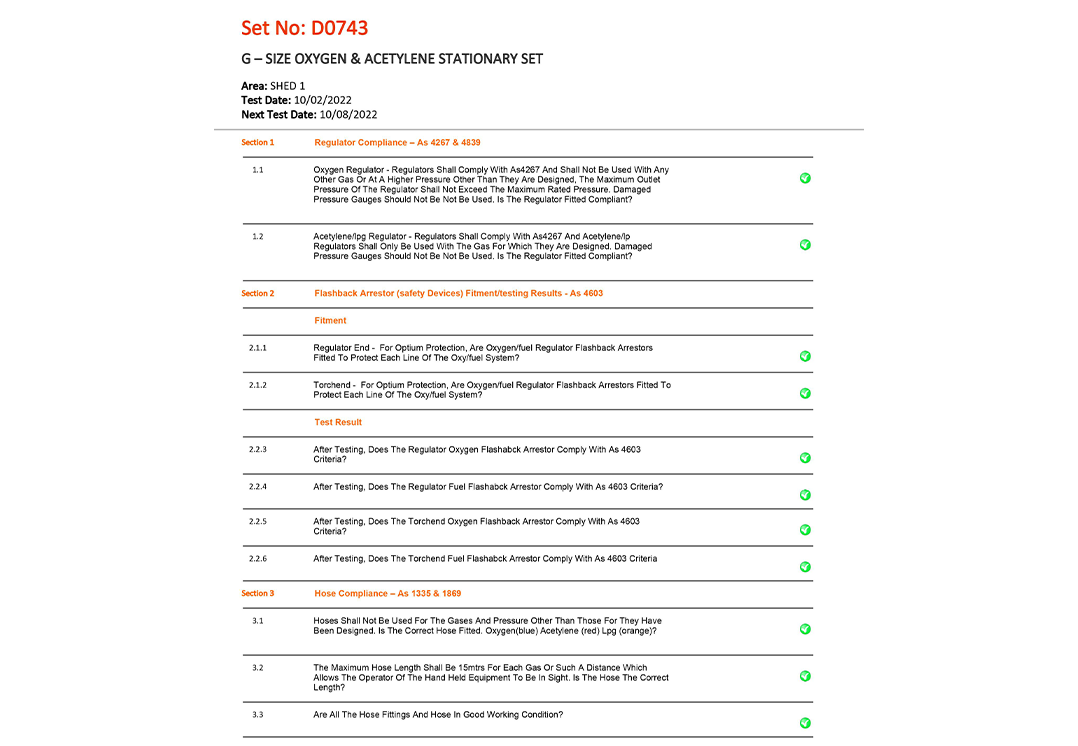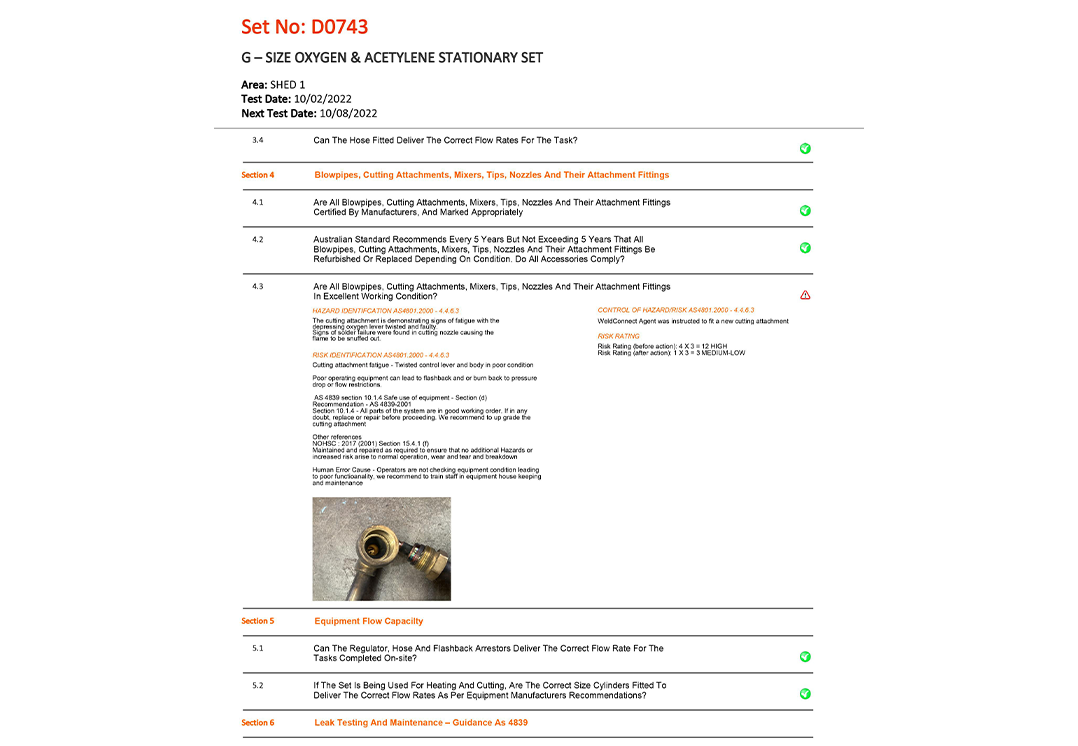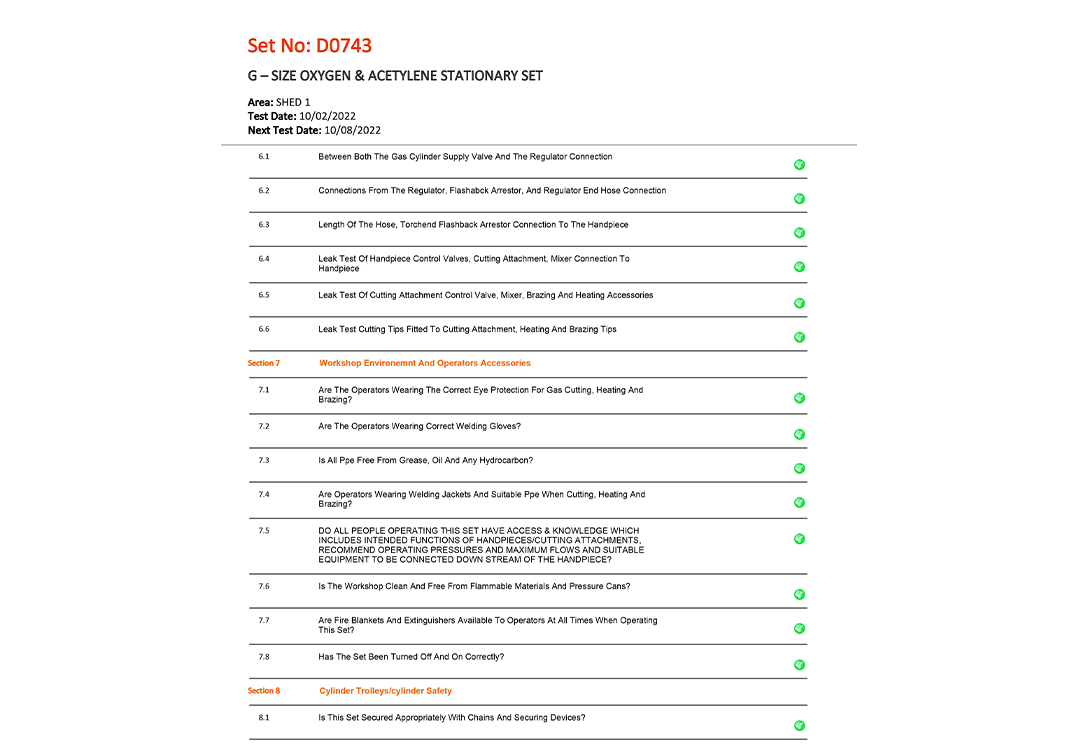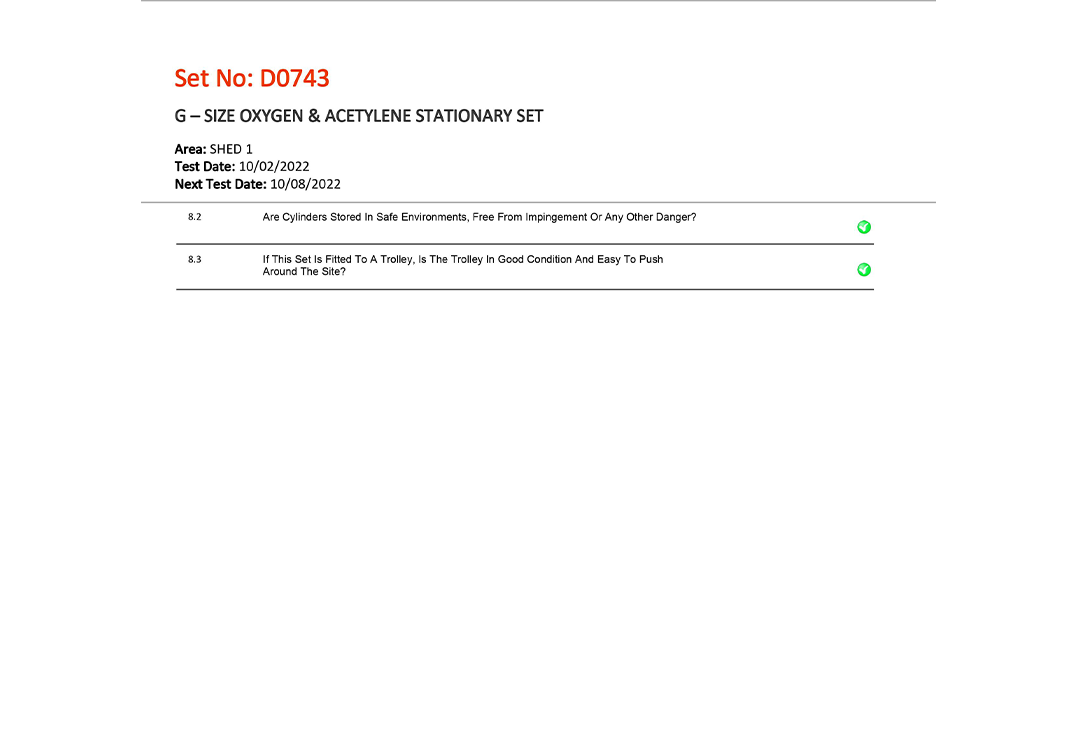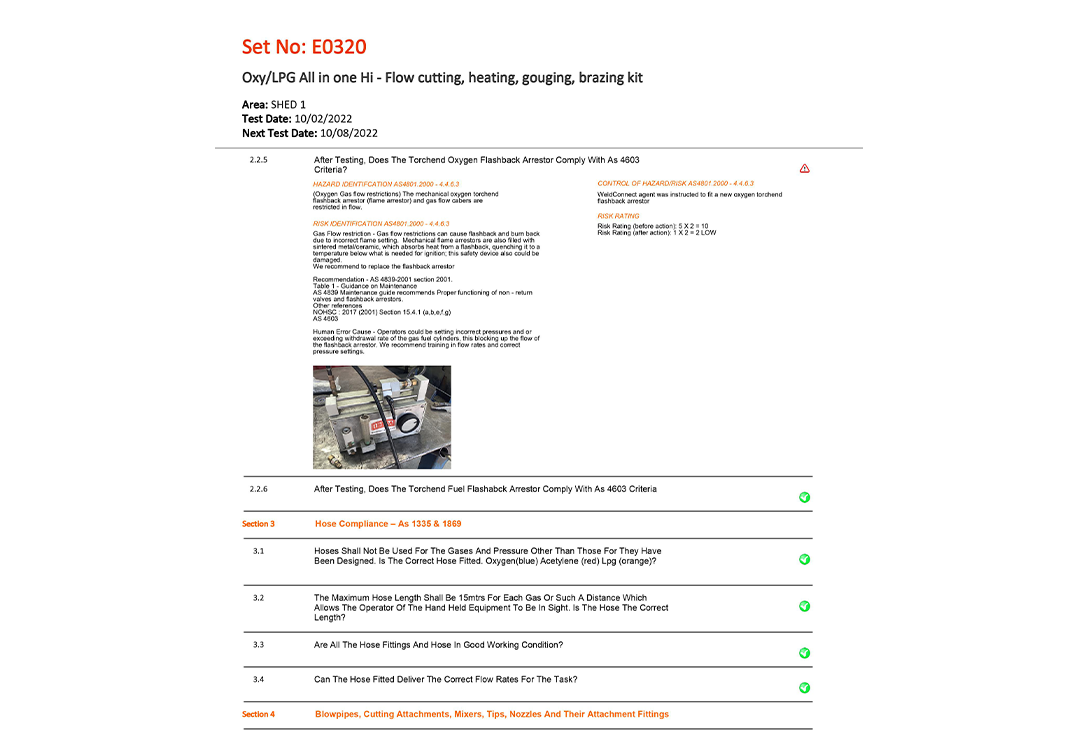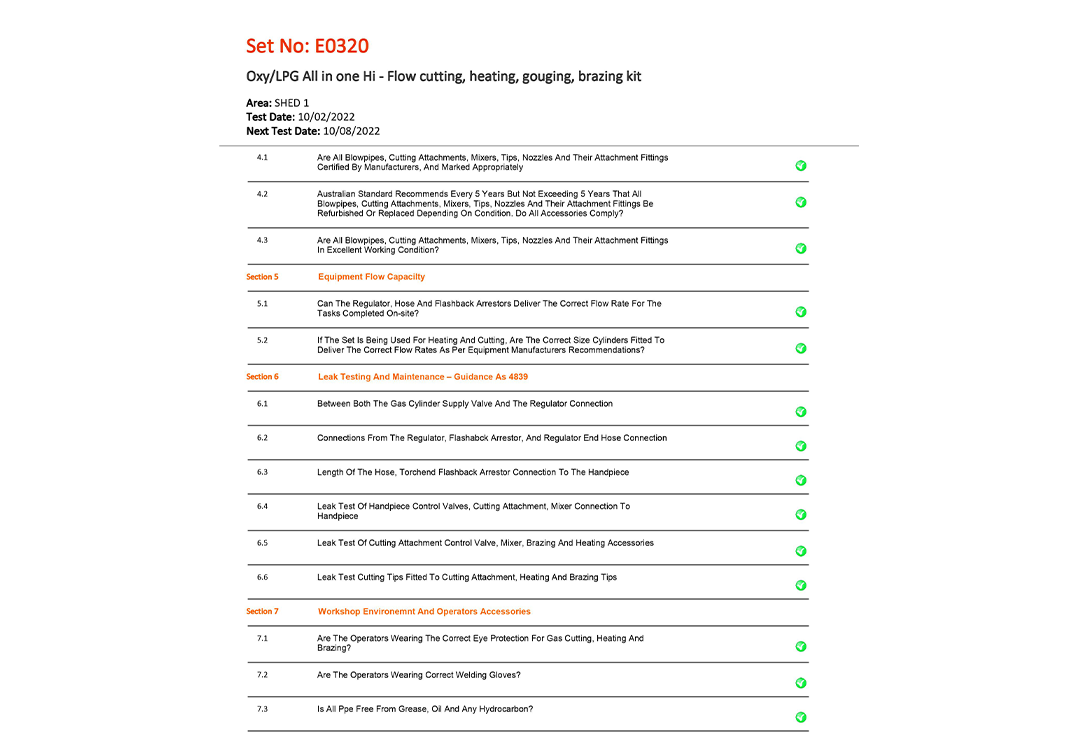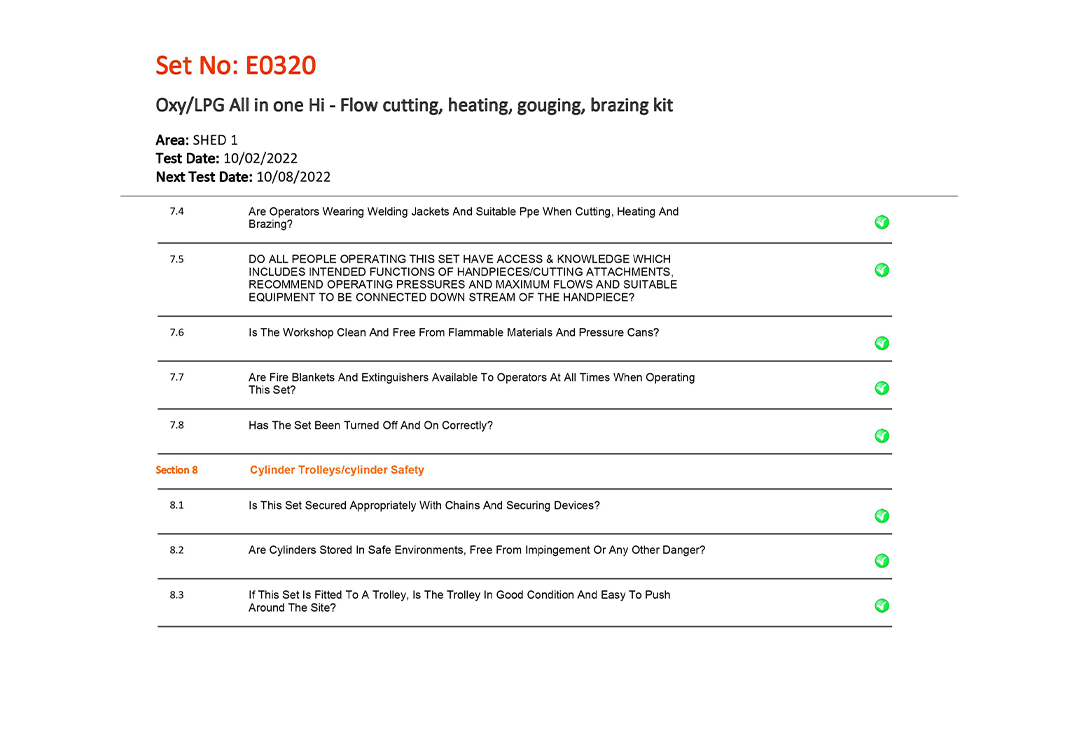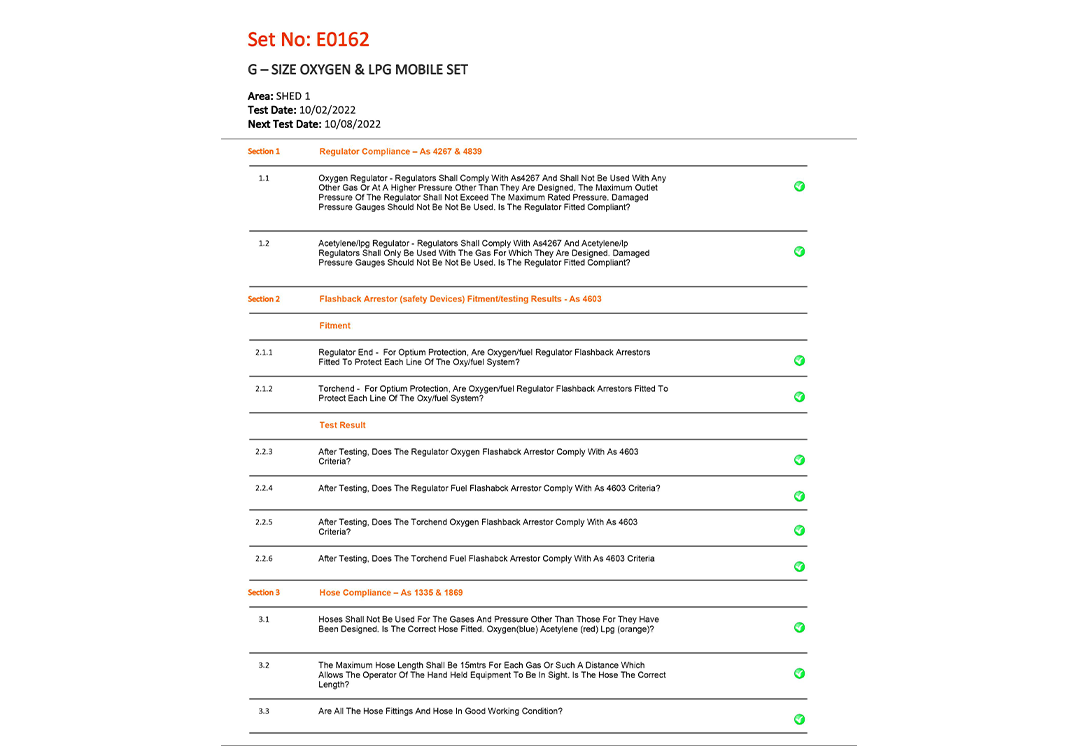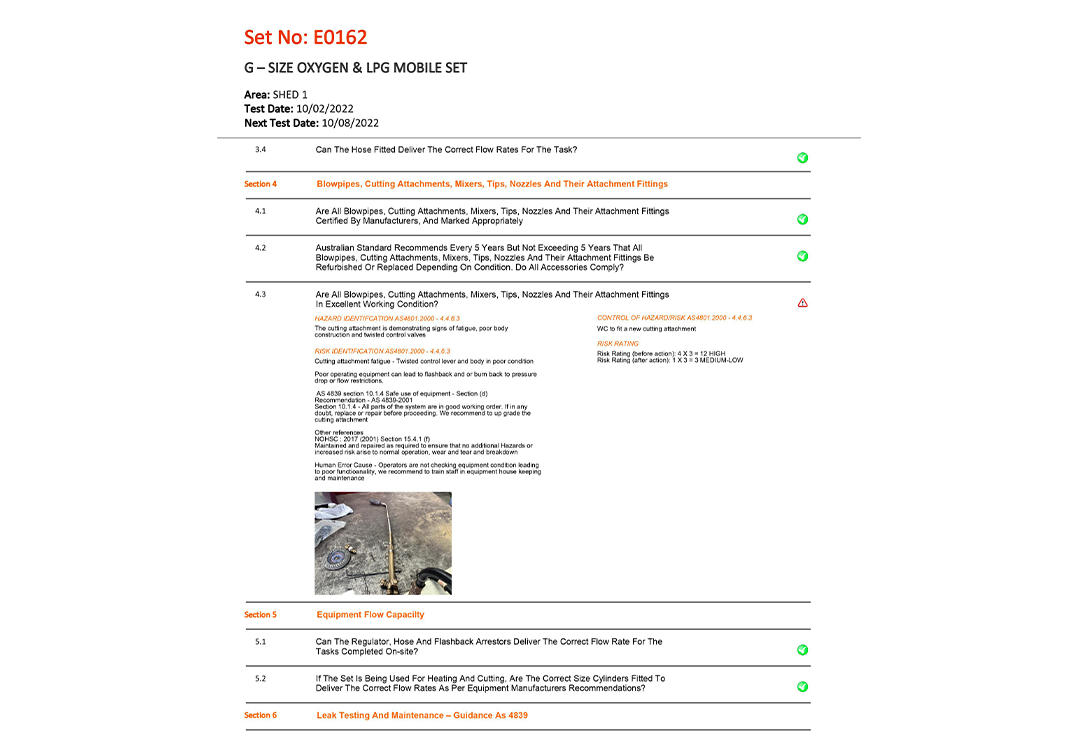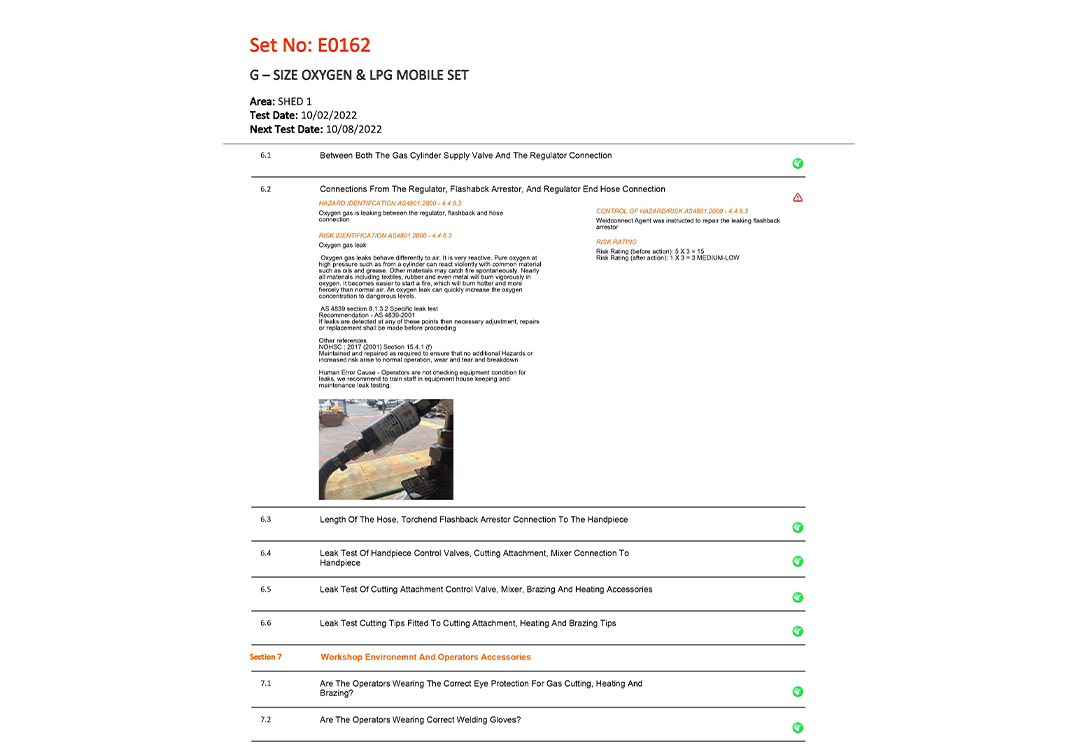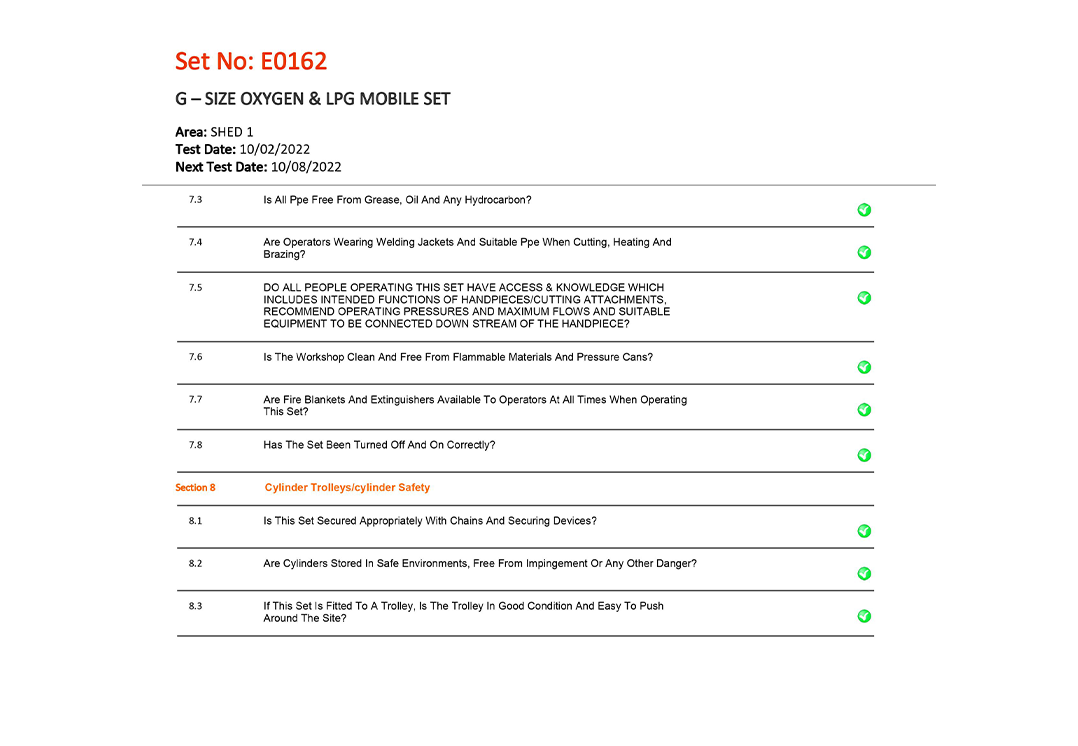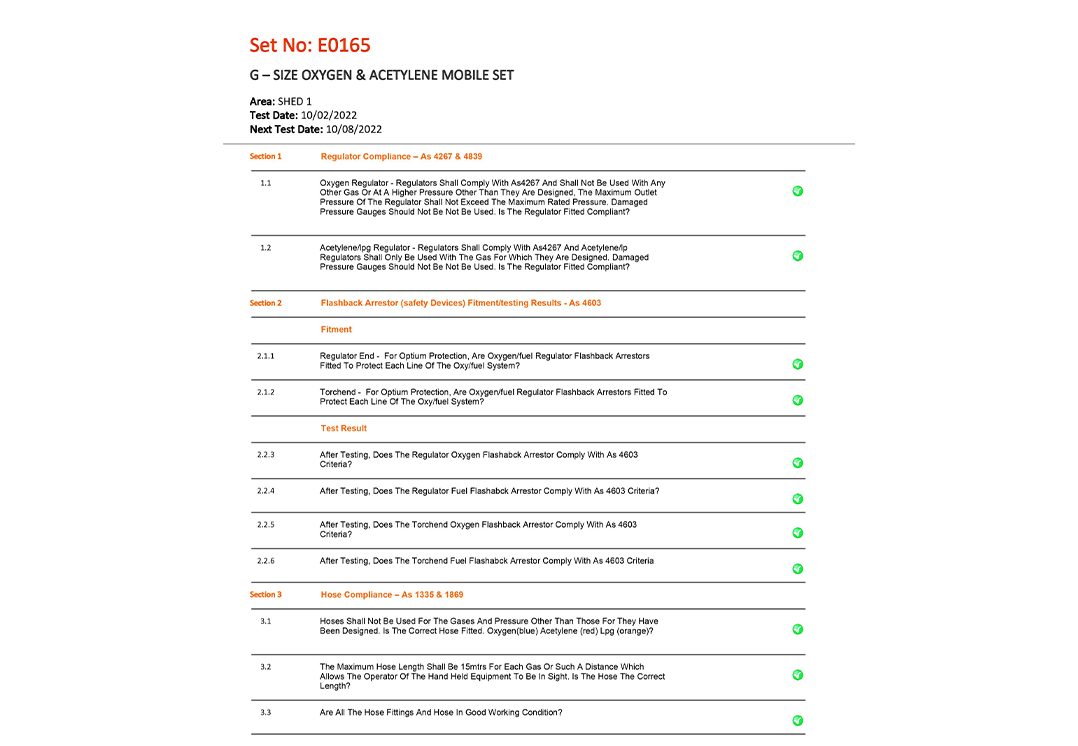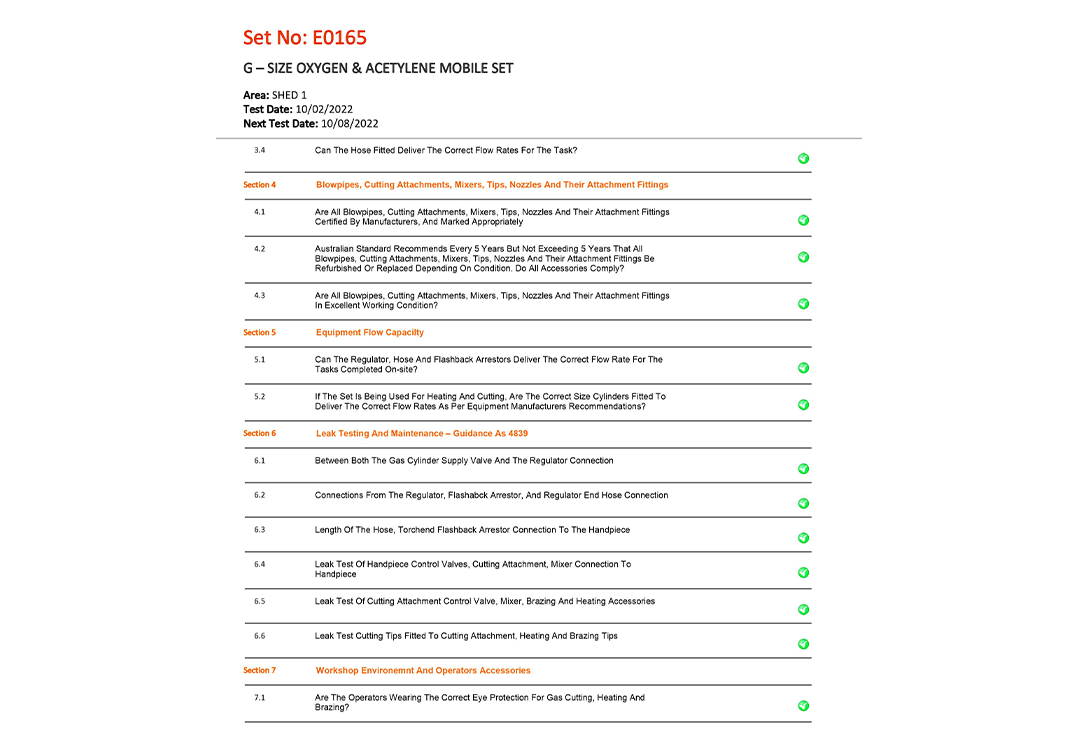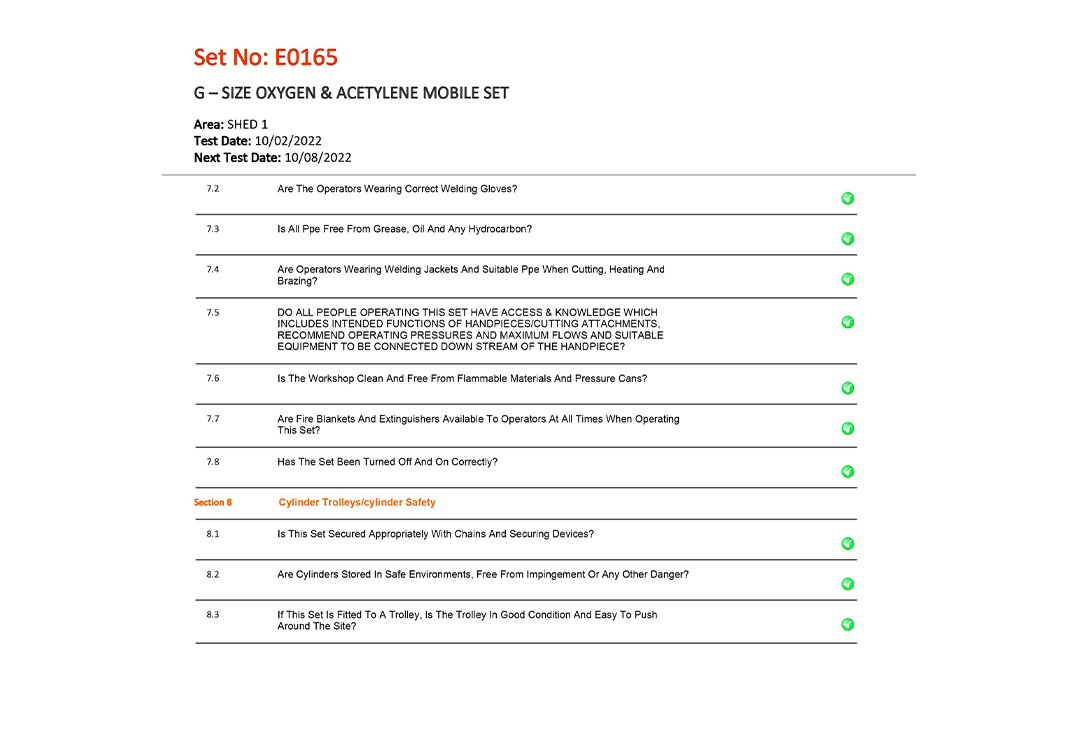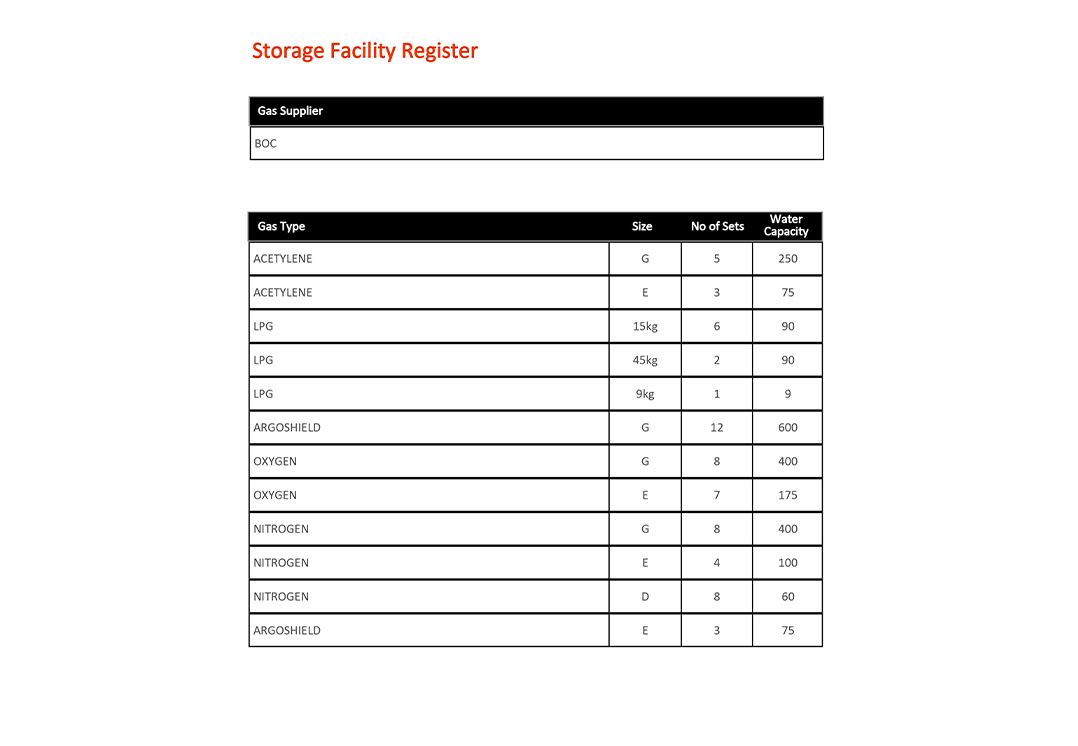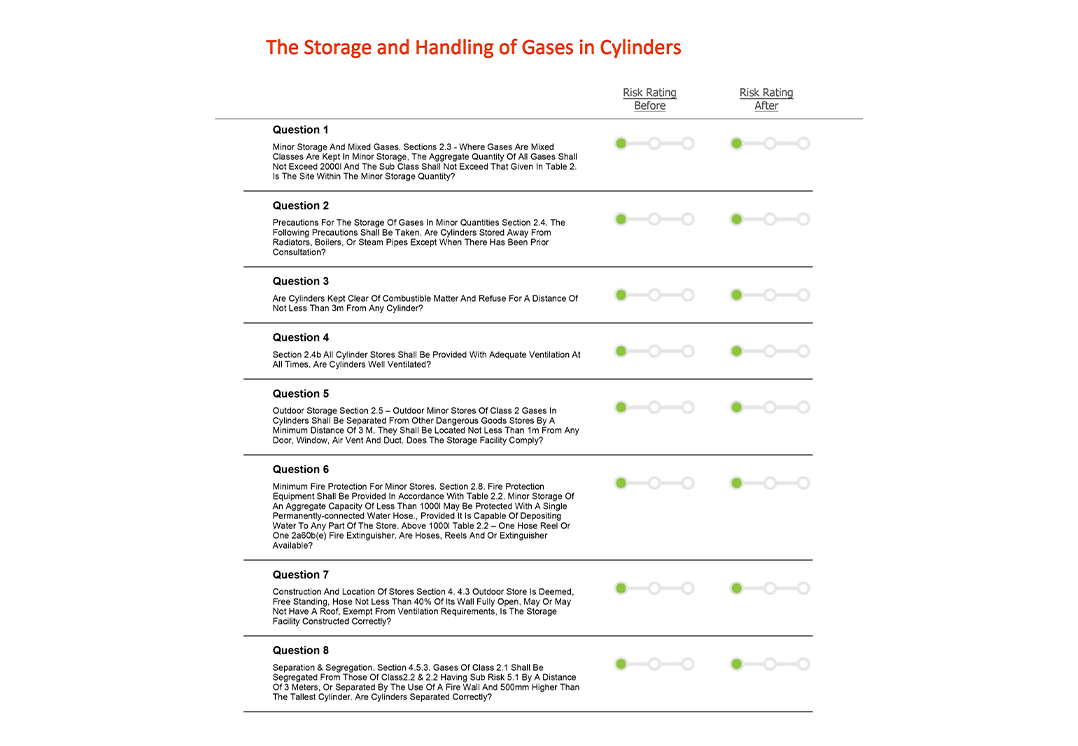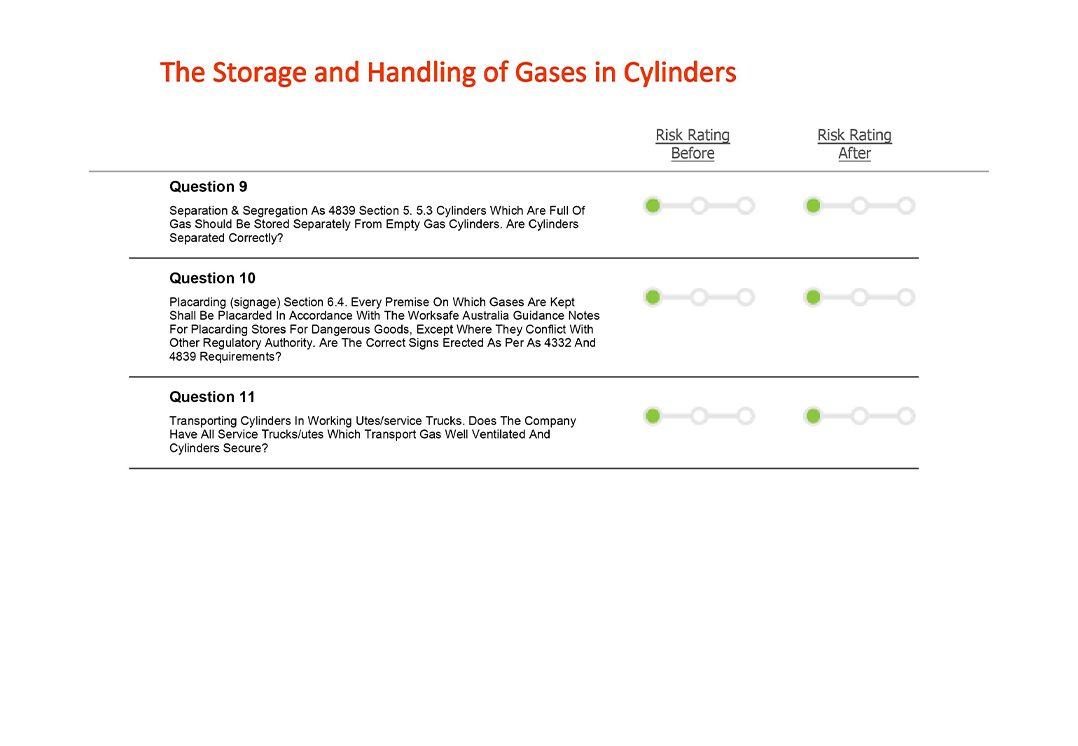 WeldConnect is the

Leading Professional Company in Australia
Oxy Fuel Gas Equipment Inspections