9.1mm Jobber Drill Bit - Gold Series (5Pk)
When you go to buy a drill bit, what are you needing ? Just a drill ? or do you actually want HOLES ?
Rigorous independent testing has proven that the Gold Series Drills outperform other Australian drills on the market by more than 30% - giving you more holes for your dollar in every single drill bit !
DRILL FEATURES                                                                            . M2 HSS Fully ground M2 HSS material increases drill life
. Titanium Nitride coating reduces heat and increases lubricity for extended life
. 135 Degree Split Point cuts faster and reduces wandering              Alpha Gold Series Drills are packaged in a reusable plastic hang pack, keeping your drills safe, clean and dry.                               Gold Series Drills are also available as a single piece in our carded range.                                                                                            Click here to view the carded Gold Series Jobber Drill range.
Click here to watch a video on the Alpha Gold Series Jobber Drills.
Click here to find your closest Alpha Distributor.
TECHNICAL DATA                                                                  Overall Length   125mm
Flute Length

  81mm
Stainless Steel RPM  448
Tool Steel RPM  672
Cast Iron RPM   896
Malleable Iron RPM   1008
Medium Carbon Steel RPM

1120
Free Cutting Steel RPM  1568
Alum, Brass, Plastic RPM  2241
Wood RPM 3361
Feed per RPM (mm / rev)   .15-.25
Standard pack Qty  5                                                                DRILLING PRACTICE                                                                      The flute form, web thickness and split point of the standard Alpha drills are suitable for most materials forming fine chips. For effective drilling, the rigidity of the drilland work piece are most important. The shorter the flute length the more rigid the drill. Long drills must be adequately supported to reduce vibration.
The following are important in drill use :
. Clamp the work piece securely
. Select the correct speed and feed
. Use an appropriate coolant or lubricant
. Ensure the shank is securely held. Aviod using worn drill chucks as the drill may slip during use.
. Regrind the point or replace the drill before it dulls, do not force a worn drill.
. When deep hole drilling, withdraw frequently to clear the chips ( deep holes start at 4X the diameter)
. For stainless steel, manganese and high tensile steels, do not allow the drill to swell as it will cause work-hardening. Use a slower speed and heavier feed for these materials.
Others Also Bought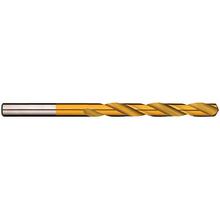 ALPHA - 6.1 - 7.0mm Jobber Drill Bit - Gold Series
From $8.78 Excl GST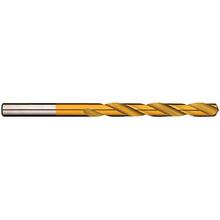 ALPHA - 7.1 - 8.0mm Jobber Drill Bit - Gold Series
From $12.90 Excl GST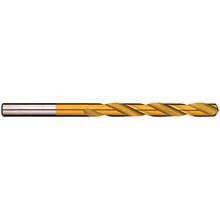 ALPHA - 8.1 - 9.0mm Jobber Drill Bit - Gold Series
From $15.10 Excl GST
More From This Category