Adflo Welding Helmet With Variable Colour Welding Filter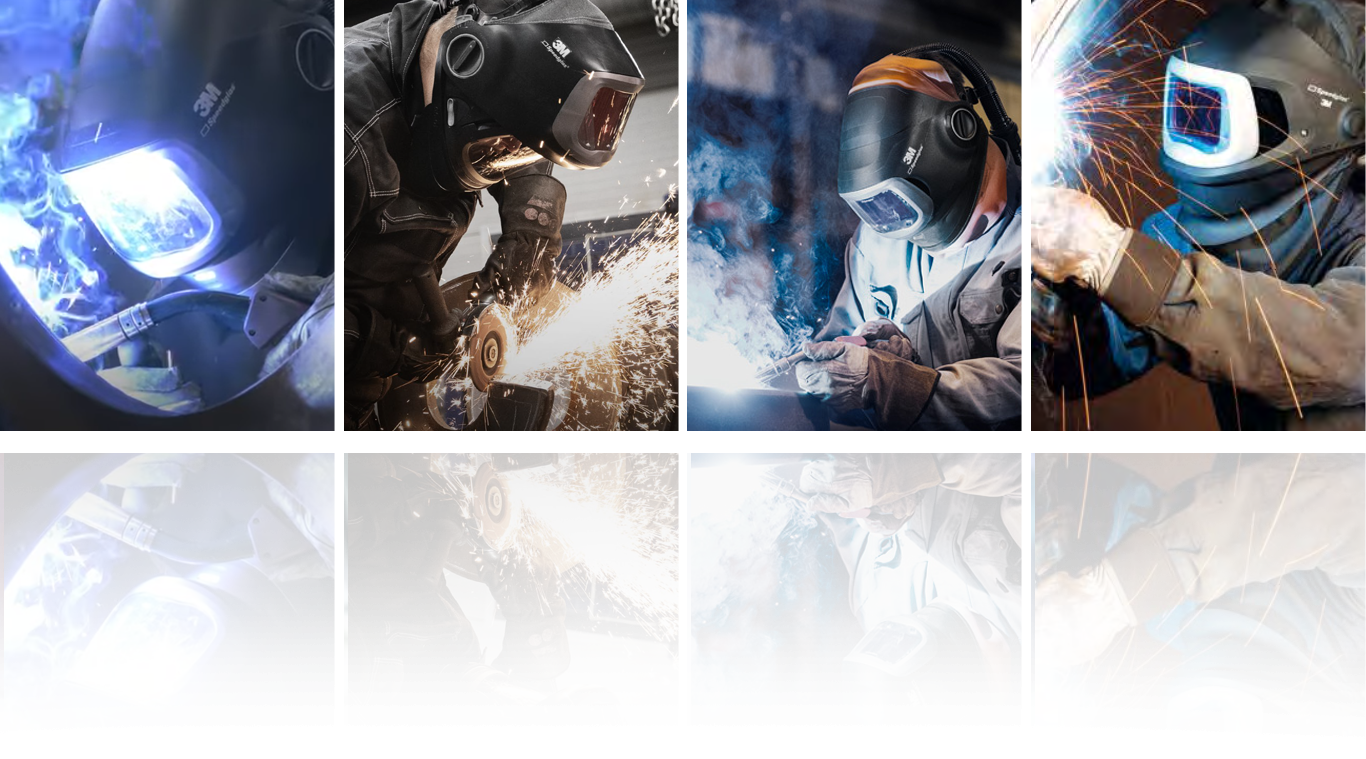 Imagine Welding Protecting that is as versatile as you are
Based on extensive input from welders working at high amperages who need to grind frequently, the 3M™ Speedglas™ Heavy-Duty Welding Helmet G5-01 is created to be adaptable to an individual's needs and situation.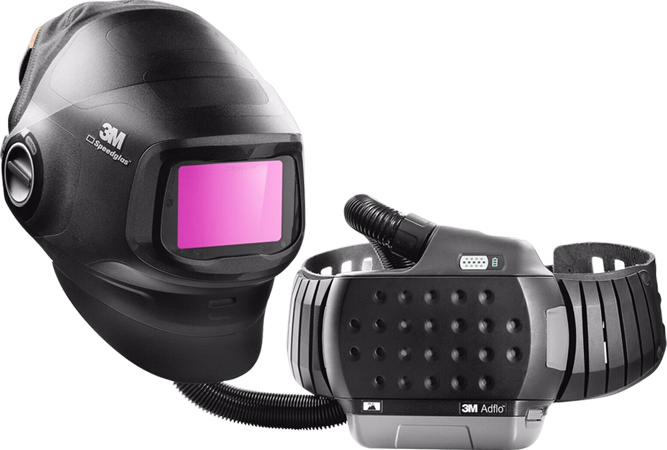 Adflo Welding Helmet with Variable Colour Welding Filter
As one of the most popular respirators of its kind in the world, the Adflo™ Powered Air Respirator is designed to provide welders a constant nominal airflow rate of 170/200 litres per minute, regardless of the battery's charge or the particle loading of the filter.With its slim profile, the Adflo respirator offers excellent lightweight, adaptable and easy-to-use respiratory protection.
Features and Benefits
Natural Color technology
Welding Filter Shades 5, 8-14
Largest Viewing Area: 104mm x 170 mm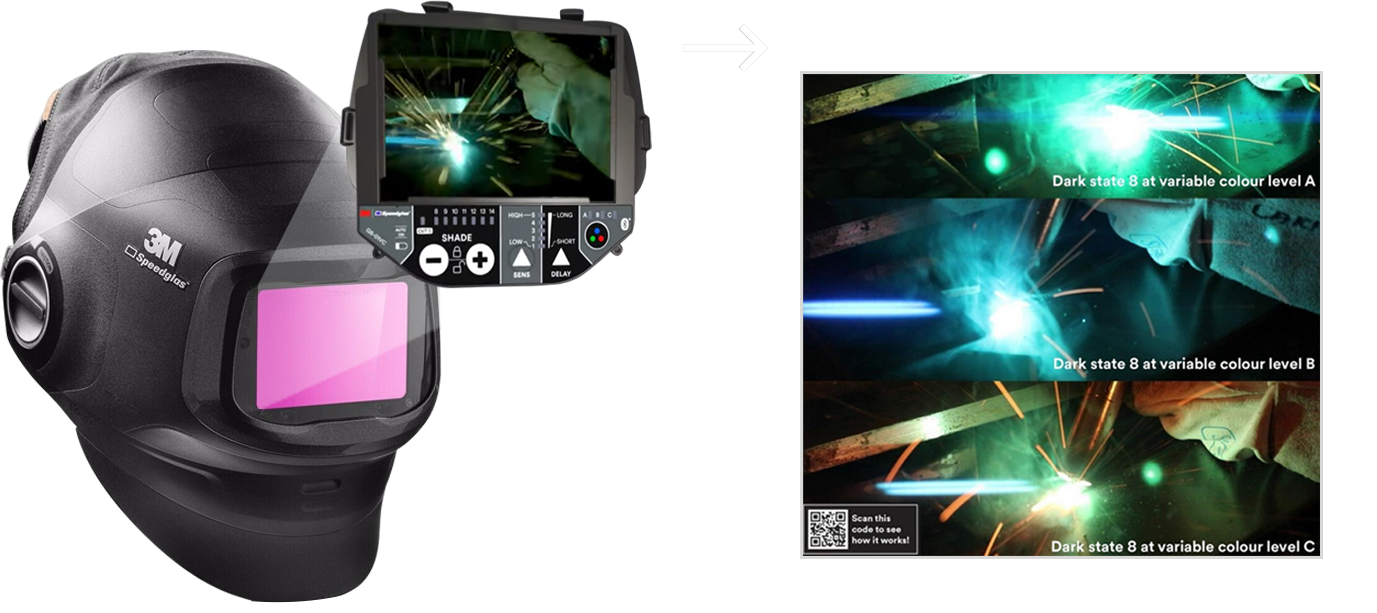 Speedglas TrueView now with Variable Colour Technology
The 3M™ Speedglas™ Auto-Darkening Welding Lens G5-01VC offers 3M™ Speedglas™ TrueView Technology in the light state with your choice of colour tone in the dark state. Control how you view your weld. Provide better control of your weld puddle – with a view that appears lighter, brighter, and more realistic. Help you focus on your welding set-up, welding technique and inspection of just-completed welds. Give you a clearer view of coloured welding machine controls – even with your helmet in the safe, down position.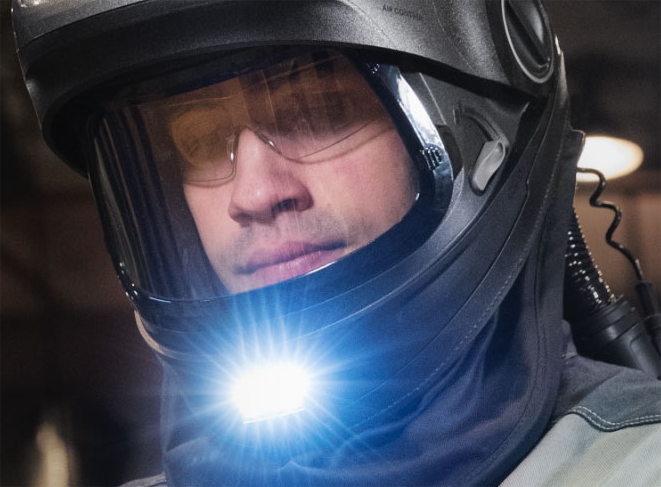 Light up your workspace
A new, optional helmet-mounted task light provides hours of powerful lighting and runs off the Adflo battery pack, enabling welders to enter and work in poorly lit spaces.

• Task light specifically designed for welding
• Light weight – powered by the Adflo battery
• Positioned to cast a wide light on the workpiece
• Designed for even light distribution at normal welding distance
• Configurable light intensity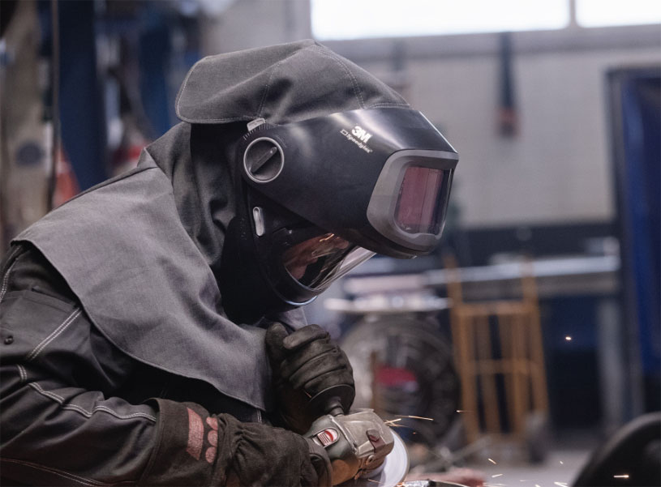 Flip-up for clear vision
Flip-up functionality allows you to seamlessly switch between welding and grinding tasks. Set-up, inspect and move around the workplace with perfectly clear vision while maintaining your eye, face and respiratory protection 16% larger than the FX Air Grinding Viso

Heavy-duty powered air respiratory protection
The Award winning Adflo PAPR
At least 50 times cleaner air
Protect against particles
Protect against gases
1/1/1 optical classification
Rapid 1 hour charge (0-80%)
170-200 litres per minute
Heavy duty 12 hour battery
New Quick-Change face seal