ELLGARD Max Blue Nitrile Gloves (SC) (PK 12)
ELLGARD®Max Work Glove with Safety Cuff
Tough heavy duty blue nitrile coating on a brushed jersey 100% cotton liner with safety cuff.

Excellent resistance to abrasion, cuts, punctures, and tears
Outstanding fit and dexterity - the glove molds to the contours of the hand
Good resistance to oils and greases
Good wet and dry grip
Heavy duty mechanical protection
Sizes: 9 and 10
Certified by SAI Global to AS/NZS 2161.3:2005 Occupational protective gloves - Protection against mechanical risks. Performance AS/NZS 2161.3/ EN388 - 4111.

Applications:
Ideal for applications in industries such as building, brewing, forestry, railways, metal fabrications, automotive assembly, and plastics processing. Ideal for handling abrasive materials such as castings, cores, extrusions, tubular steel, barbed wire, sheet metal, timber, plywood, concrete blocks, bricks, and tiles.
Others Also Bought
ELLGARD Lite Blue Nitrile Gloves (KW) (PK 12)
From $24.02 Excl GST
ELLGARD Max Blue Nitrile Gloves (KW) (PK 12)
From $29.57 Excl GST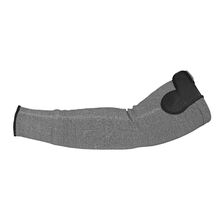 Dynamax C5 Cut Resistant Sleeve - Closure Tab (PK 12)
From $125.33 Excl GST
More From This Category